Golf course lights for greens and driving ranges include fixtures, mounts, and accessories to provide everything required for aesthetic and functional golf course lighting.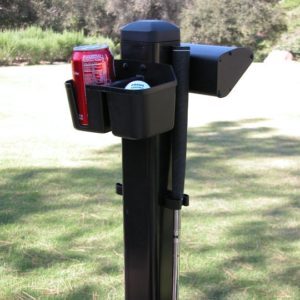 Our selection offers a broad range of finishes in light fixtures for golf course greens and powerful metal halide lighting fixtures that make it easier to see down the driving range regardless of the size of the course.  We compliment this selection with many accessories that mount these fixtures on either wood or steel lighting poles, and we also provide the poles themselves in other portions of our site.  Led Spot offers options in both low voltage halogen and high voltage fluorescent golf lights that illuminate putting greens completely without shadow and provide a glare free lighting environment for precise shots at crucial moments of the game.
Our online selection conveniently divides golf course lighting fixtures into two categories: putting green and driving range.
For larger courses we recommend custom designing golf course lights using any number of steel or wooden poles, mounting brackets, and high-wattage Sports Liter fixtures found here in the driving range fixtures category.  We offer 400-watt fixtures and 1000-watt fixtures and a full range of mounting accessories that allow country club facilities managers or outsourced lighting design vendors to mount them on either wooden or steel lighting poles.  The fixtures and mounts are sold separately in order to allow installers to precisely match fixture quantity to the precise lighting requirements of their specific range.
Putting green golf lights come in high voltage and low voltage models.
Our 120V lights are extremely powerful and impact resistant.  They house fluorescent lamps that in spite of their high voltage nature offer power conservation and a longer bulb life of up to 10,000 hours.  Adding one of these each to the 18 holes behind a country club adds the combined compliment of high-end lighting technology in an aesthetic fixture mount that fits will with surroundings and landscaping.  These golf lights can also be customized with green lamps for softer lighting conditions or for decorative landscape lighting themes or even Christmas seasonal lighting.  Our low voltage golf course lights feature Solite tempered glass lenses that provide some of the strongest protection in the industry from stray ball impact.  Halogen lamps in these fixtures light up the golf course with no shadow.  Because we furnish this equipment to both individual clients and organizations as well as professional athletic lighting design companies, we include a wide range of finishes for our fixtures fitted on top of chic-looking, black mounting pedestals that compliment the aesthetics of any range, clubhouse, municipal park, or private estate.
It is important when lighting something stately as a golf course to use only top-rated, commercial grade materials.
There are countless retail centers that provide all types of golfing accessories, lights included.  However, Led Spot strongly cautions even the smallest of organizations on a tight budget to invest a little more in commercial grade materials due to the superior impact resistance of lenses, the ability of wiring to withstand the elements in humid regions of the country, and the longer lamp life that commercial grade golf course lighting equipment consistently provides.  Furthermore, the added value of being able to match accessories and obtain lighting poles from a single online source saves time as well as money when one considers the bulk purchase rates we offer on many equipment lines, the convenient drop shipping straight from the factory that we deliver to every client, and the complimentary assistance we provide online or over the phone at no additional cost.