The growing popularity of soccer in the United States has lead to a subsequent rise in the number of leagues that play recreationally. As a result, soccer fields have been popping up in various places, and they must be properly lit for the night-time safety of the players.
Soccer Field Lighting Requires Proper Installation & Light Fixtures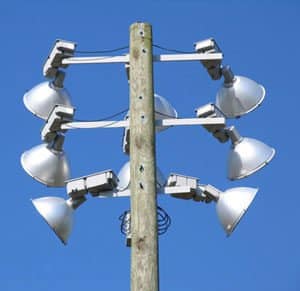 When looking to install soccer field lighting, it is best to consult with an electrician and local municipal outdoor lighting codes. Another prime resource hails from the US Soccer Foundation, which offers recommendations for soccer field lighting for optimal illumination.
Lighting needs vary depending upon the size of the field and the number of spectators. For example, a field 180′ x 330'designed for nighttime competition without spectators requires a minimum of 30 footcandles of horizontal target illumination continuously, while a professional stadium needs at least 75 footcandles. One footcandle is equal to one lumen spread over one square foot to show the quantity of the light being put out from the soccer field lighting. The amount of voltage available from the ballast – a transformer –  should be taken into consideration when choosing lighting as well. Multi-tap ballast for soccer field lighting allows for greater flexibility. All of our soccer field lighting configured for either multi-tap ballasts for 120, 208, 240, and 277 volts or choose the 480 volt ballast. The lamp should match with the ballast. For example, if you need a metal halide soccer field lighting sportslighter fixture it should be paired with a metal halide 400 watt ballast. It is best to constantly work with a qualified professional when choosing and installing soccer field lighting due to the high voltage levels that are being used.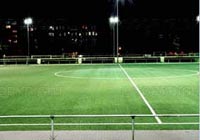 Soccer field lighting needs to be mounted properly on poles. The US Soccer Foundation recommends always using galvanized steel poles and mounting assemblies. To mount just two fixtures on a metal pole requires a light angle iron cross arm for metal poles. This is for use with the all the soccer field lighting fixtures sold. There are also options for 3 and 4 lights for either metal or wooden poles. The poles should be placed at least 20 feet from the sideline and outside of fences to avoid injury. The lights should be mounted at a height to minimize glare for the spectators and spillage outside the soccer field. By reducing the amount of light that spills over, nearby neighbor complaints will be reduced, and electricity will be saved as the lighting will function more efficiently. The ballasts and electrical equipment should be in aluminum enclosures at least 10 feet above the ground, there should be a safety disconnect for each. Check the US Soccer Foundation's recommendations for soccer field lighting and a licensed electrician for further information on connections and mounting of the lighting.
For any lighting needs, it is always recommended to consult with an expert electrician. They will know the local municipal codes and the proper handling and installation of high voltage soccer field lighting, but consult the soccer field lighting page for any of the lighting fixtures and mounts that are required by the electrician.