It might be best to consider thinking outside the box when decorating porch areas, outdoor entertainment facilities, and staircases.  While a number of sizes and styles of lighted poles exist that can accommodate any lighting task, step and brick lights offer two advantages not available through other fixtures.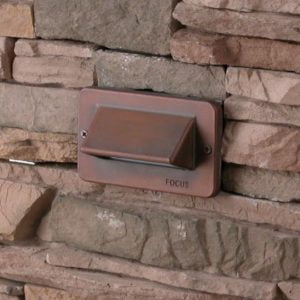 First, they offer unobtrusiveness by installing directly into steps or between bricks, bringing emphasis to the light they produce while minimizing their own appearance.  Secondly, they offer more options for positioning on vertical and horizontal axes.  Brick lights and step lights require no additional, separate support.  In areas like swimming pools and outdoor dining facilities, it may even pose a safety hazard to install lighting poles that people could inadvertently collide with or trip over.  It actually becomes a matter of safety and convenience as design aesthetic to consider the superior alternative offered by step and brick lighting.
Contractors should strongly consider adding step lights and brick lights as line items to their proposals.  Some clients may not want to invest in lighting poles or hanging fixtures.  Others may simply prefer an aesthetic alternative.  In either case, step lights and brick lights represent more options that clients can choose for themselves, and they represent a greater opportunity for design firms to win a bid against rival agencies with comparatively limited offerings.  Step and brick lights also provide an extra touch of physical safety in an area where even the most coordinated people often trip—the stairs.  Any commercial facility hosting events at night can reduce the risk that guests could fall and injure themselves by installing step lights on the stairs themselves and brick lights in adjacent walls.  Even from a purely decorative perspective, area path and step lights offer great value and benefit.  High-end clients such as country clubs and resort hotels that host events near pools and patios, or have formal dining areas outside, can add ambiance, convenience, and utility with step lights and specialty deck lights found in this section.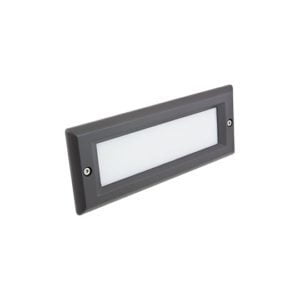 With the rising movement on the part of residential homeowners to abandon nightlife and entertain at home, brick lights and step lights are correspondingly on the rise.  Many people like to install them both around the deck and around pool areas, finding them to be simple and relatively low-maintenance, hazard-free items.  Children and pets can safely play around step and brick lights without risk of injury, and since so many of our fixtures are low voltage in nature, there is no risk of fatal electric shock from a 12V device.  Safety, and convenience, and efficiency not only equate to more comfort and peace of mind, but also reduced energy costs which makes home entertainment simultaneously attractive and desirable but not so expensive as to have to limit the joy or length of events.
LED Spot's impressive selection of step lights and brick lights represents a wide range of options for the decorator with both function and ambience in mind.  We provide aesthetic compliment to brass wall sconces and hanging lanterns with brick and step lighting fixtures also made from brass.  For darker brick compliment, we carry copper lights that blend seamlessly into the background of their surroundings.  The majority of our brick lights and step lights are molded in the louver design, which resembles a small "grill" with the fins pointing downward.  This focuses the light on the ground where people need to see to walk, and keeps the glare from hitting the eyes.  When brighter lights are required for extra security and safety, LED Spot brick and step high voltage fixtures provide both extra lumens and a wider distribution of light.  For more ambient lighting conditions, low voltage brick lights and step lights offer a wide range of opportunities to highlight and accentuate key outdoor lighting themes along areas of human traffic.  We even carry several brick lights in contemporary fixture design called "post sconce lights."  These eclectic peripherals can encircle a patio in light and bring a modernesque touch to the area.  Brick and step lights feature all major bulb types and designs as well.  Many of our bulbs are designed with maximum energy efficiency in mind and feature bulb life of up to 2,000 hours.