LED Spot's selection of football field lighting fixtures and mounting adapters contains all that a small to mid-sized field requires to solve the problems of shadow and glare. Inadequate football field lights can lead to serious injury in either case, as shadow makes it hard for players to navigate the field, and glare can blind the eyes in moments of intense play.  Add to that the fact that most of the football fields we light are for children in pee wee and little leagues, or for junior high and high school teams, and the requirements for safety become even more paramount when we consider that it is the safety of children— and the very reputation of the game as a sport that makes America great— that is at stake.  Summer camps with inadequate football field lighting often suffer from poor enrollment, as do YMCA's and church facilities whose facilities don't quite measure up to the savvy and sophisticated expectations of today's media-savvy youth.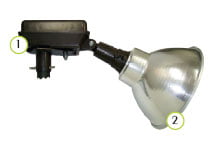 and accessories meet these challenges head on with a number of key features and configuration options that can make any field clearly visible and glare free.  To begin with, our fixtures are made with the finest tempered glass engineered to minimize blinding glare.  These fixtures range in wattage from 400W-1500W and mount on steel poles by means of 2, 3, or 4 light angle cross arm bars.  The separate selections of fixtures and mounts gives facilities managers the ability first to estimate the average level of lumens necessary to evenly distribute light throughout the playing field, end zones, and sidelines.  It also allows for lights to be added in pairs that levels of intensity incrementally until optimal lighting for the field is achieved.  Football fans in the stands can benefit from the same type of lighting array with fixtures placed around walkways, concession areas, bathrooms, and entrances and exits.  For summer camp football fields, lighting packages for wooden poles can be substituted for these fixtures when the traditional seating or stands we associate with the game are absent and the field itself may multi- function as an arena for other games and equestrian functions.
These things that often escape the notice of the general public and sometimes even schools, churches, camps, and community leagues can make a key difference in both the way the game is played and the impact it has on people involved in all levels of the game.  Superior, commercial grade football lights first and foremost protect the safety of young people in these facilities and ensure that injury, heartache, and liability are minimized.  Football will never be anything less than a rough contact sport, and a certain amount of painful battering is part of the overall nature of the event.  Nevertheless, when there is optimal lighting, players who are trained in the game—even extremely young children—have a better chance of weathering the impacts than they would if visibility were obscured on the field due to bad football lighting fixtures or lighting pole placement.  With LED Spot football field lighting equipment, summer camp fields can be the reason kids decide to spend two weeks in the great outdoors—not to fish, but to play football.  Churches and community organizations can likewise expect higher attendance and lose fewer members to nightlife when there is a good, clear, well-lighted playing field for football players and fans alike.  Finally, both school spirit and school attendance and even small junior college enrollment can increase when an LED Spot lighting design on the mid-sized stadium level specifically targets the key points of the game and adequately illuminates the entire facility throughout.
LED Spot also knows that not everyone has the time or expertise to design even a small football field lighting system.  This is why we hire specialists to offer complimentary consultation to all serious inquirers.  We will answer any question sent to us via our online "Ask an Expert" forum, or we will provide systematic design consultation services to anyone who orders over the phone.  Call us now to put an American tradition in a whole new light starting today.