Shop Our Catalog For: Landscape Lighting & Outdoor Lighting
---
Barbecue lights help make outdoor cooking safer and cleaner by enabling people to clearly see what they are grilling. To make barbecue work the way it was meant to work for man, it is necessary to always maintain the right temperature and to always observe the color of the food items being prepared. This cannot be done effectively in the dark, nor can it be done with any true effectiveness with porch or patio lighting. Barbecue lights by LED Spot offer a specialized light source designed just for outdoor cooks that clearly renders food color and texture so cooks can see exactly what stage the meat is at in the preparation process.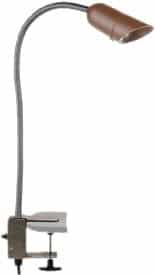 LED Spot's robust selection of barbecue lighting offers a full gamut of both low and high voltage barbecue lights mounted on flex deck and telescopic deck mounts. They come in any number of sizes and fixture molds and are optimal for a wide range of cooking environments. We also carry essential barbecue light accessories and offer a growing selection of wall mounted barbecue lights that combine the elegant with the rudimentary.
Flex deck barbecue lights attach directly to a gas or charcoal grill and extend up and over the grill on a flexible mounting arm that the cook may turn vertically, horizontal, or diagonally twist to some degree in order to achieve exact positioning. These lights come equipped with universal mounting clamps designed to adapt and firmly grip any type of grill, picnic table, or work area. They remain firmly in place when the grill needs to be moved, or when someone bumps it accidentally. LED Spot's high voltage barbecue grill lights consist of highly heat resistant materials designed to operate for extended hours of consistent use. An average lamp life of up to 2000 hours makes any number of models we carry an ideal, reliable source of all-night lighting for overnight cookouts hosted by major public events and festivals.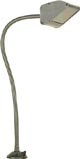 Low voltage barbecue lights offer the same benefits with power savings for the home cook foremost in mind, eliminating exorbitant energy consumption and producing less heat for the personal home chef whose guests may be sitting near the grill and feel uncomfortable by grill heat compounded by lamp heat. LED Spot also provides 12-V transformers and accessories needed to power these lights for the one shop convenience of our clientele.
Telescopic mount barbecue lights allow for precise vertical adjustment to get the light just right over the top of the grill. Due to the design of the lamp fixtures, they put the grill and food in a distinct circle of light. Similar to their flex mount counterparts, these lights will securely attach to any type of grill and extend a lighting canopy over the surface of the grill that clearly illuminates all food and food preparation materials on the grill.

The telescopic design may be preferable to cooks using certain types of grills that are circular in shape, fixed in place, or lower to the ground. Such designs require more vertical movement than horizontal and/or diagonal movements like those of flex mount barbecue lights. These lights are very sturdy and built for the outdoors. LED Spot BBQ Lights are made from heavy-duty cast brass and have 13 distinctive powder-coat finishes to meet your color preferences. Lamp life again is rated at approximately 2000 bulb hours.
As more people abandon public venues and nightlife and develop creative ideas for home-based entertainment, the need to create an aesthetically superior home environment increases. To attract guests to the home and motivate them to stay and return for subsequent events, it is necessary to out compete the decorum of public night spots and simultaneously remind people that home truly is where the heart is, and there is no place like barbecue at home with wall mounted barbecue lights from LED Spot. They attach to a wall or sturdy outdoor patio pillar and extend an elegant, tulip-shaped fixture over the surface of the grill and the food.
The simplicity of a single wall mount barbecue lighting fixture can transform rudimentary BBQ facilities into elegant and practical entertainment space. This is often all it takes change the perception that certain guests may have of the host from that of "The guy who's steaks taste great" to that of "The man who's a man of the world, man of wealth and taste".
Order now by contacting us online, or by calling us.