Bookshelf lighting with led strip lights provides you with low-cost, heat-free illumination of your personal library.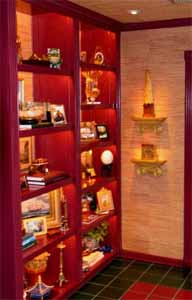 A choice between two separate models allows you to completely conceal the fixtures from the viewer's line of sight. Interior spaces between shelves light up with a gentle ambience that glows around the spines of the book. Superb color rendering illuminates lettering clearly and brings out the richness in both the texture and the color of the binding. This type of cabinet lighting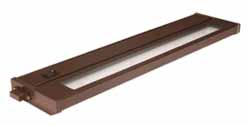 is the best option for rare book collections. LED emits no UV light, so it is the safest source to use around delicate covers and pages whose age has made them highly sensitive to the elements.
Due to plug and play options that are available with linear strips, Homeowners can install their own bookshelf lighting. However, we recommend that clients contact an electrician to install their led strip lights. Bookcases represent some of the finest furnishings in a home, and rare book collections are often among a homeowner's prized possessions. It is almost impossible to run a power cord to an electrical outlet and keep it concealed from view. With a remote transformer and a hardwire installation, however, all the lighting equipment can be hidden from every angle of view.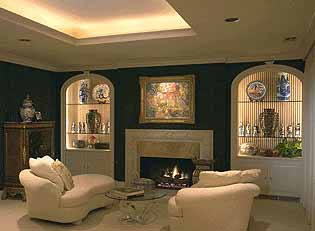 We also recommend that you work with an electrician who has experience lighting fine furniture. Depending on the type of bookcase you have, a variety of unique wiring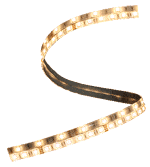 strategies may be necessary to conceal the lights effectively without damaging the case.
The type of case you have also will determine the type of led strip lights you need for your bookshelf lighting project. Most ornate bookcases have shelves that feature a forward reveal. Standard, low-profile strip lights can fit behind this forward reveal and illuminate the compartments from above without being noticed by viewers. However, some eclectic book shelves, and many contemporary and modern style furniture pieces, do not have this forward reveal on the leading edge of the shelves. Standard linear strips will be visible if they are placed anywhere on the undersurface of these edges.
If this describes your situation, then ribbon linear fixtures are the solution that you need. These flexible strips are scarcely thicker than tape. They house LED bulbs within this thin, flexible strip that affixes to the undersurface of shelves without any noticeable protrusion. Capable of producing over 100 lumens per foot, these ultra-thin led strip lights can illuminate any wooden or metal bookcase with an even distribution of light. For standard bookshelf lighting projects, the warm white color temperature of 3000K is recommended. For modern and ultra-contemporary interiors, the bright white 5500K is often more suitable.
If you are uncertain which model to purchase, contact our design department. Many cases can be superbly illuminated by either line of linear strips. Keep in mind that the standard LED ruler series also offers the advantage of dimmability, whereas the flex ribbon series illuminates at a fixed, constant rate. The choice between dimmable lighting and continuously bright lighting should be based on more than the book collection itself. Other interior furnishings, general lighting levels, and other forms of accent lighting all stand in work in relationship with one another. Providing our team with these details will allow us to recommend led adjustable bookshelf lighting that will work in conjunction with the room's overall lighting design.
If you can not find what you are looking for contact us and we will find it for you. Our home office is located in Houston, Texas with warehouses located throughout the United States that enable us to service all 50 states.