Understanding the benefits of the revolutionary LED high bay light over traditional varieties can make a big difference for companies that use bay lights, whether for everyday retail or industrial purposes—and beyond. If a business hasn't already done so, there are numerous reasons for swapping out those old fixtures for LED-ready fixtures.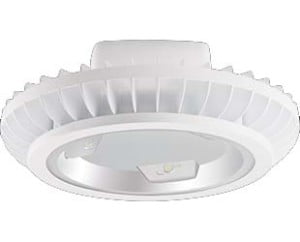 Consider this list as a motivating factor for getting those old fixtures out the door and replacing them with today's superior technology. By swapping out old fixtures with modern LED high bay light units business are taking one of the simplest and most straightforward steps possible to help cut costs and prepare for the future.
Financial Considerations
Every business out there would like to cut their overhead costs each month. While many companies run as lean an operation as possible—particularly early on—one factor that companies all too often miss out on is cutting their monthly power bill.
While everyday solutions such as simply turning out lights when not in use can make a difference, the single best way to cut costs in this area is swapping out older outdated fixtures with LED-ready units. LED high bay light units use only a fraction of the power of their precursors, meaning thy save a lot of money over time, which equals a boost to the bottom line.
Long-Term Considerations
Before LED high bay light units, bay lights were a burden to regularly swap out and replace, both in time and money. Not only does constantly replacing bulbs mean lost productivity and company time that adds up, but the cost of purchasing new bulbs also adds up. However, quality LEDs can last over 50,000 hours, saving companies significant amounts of money over the long term.
Cool, Flexible, and Powerful
While the technology inarguably saves companies money across the board, it also has a variety of other benefits as well. For one, this technology runs cool. Workers who have spent a summer day working under a hot, high-powered bulb understand the reality of light sources that contribute to heating. With bay lights, a room with several can easily heat up, contributing to increased air conditioning bills and posing a potential fire hazard.
LED technology is also both flexible and powerful. Unlike most of its predecessors, LED technology allows for any variety of illumination options as the bulbs are manufactured in a wide variety of colors. While this technology didn't produce enough illumination in the beginning, it is now one of the best lighting options available.