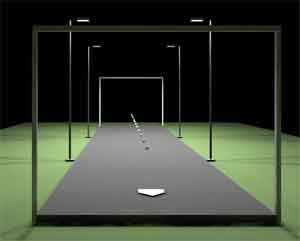 Our batting cage lighting kit has been designed to deliver sufficient foot-candles at ground level without causing spill into adjacent areas. Ideal for indoor or outdoor applications, our batting cage lighting kits are field-tested, proven, and modeled using photometric software. With photometric modeling, we can guarantee precise lumen levels at every part of the field, and our lighting kit matches what players will experience during game conditions.
Please see the attached photometric design for an example layout.
Each lighting kit consists of three LSI Slice Medium Area lights, all powered with LED technology and designed to operate at a 4000K color temperature. LSI fixtures are constructed with tough die-cast aluminum housing and finished with a polyester powder coating for additional corrosion resistance. With its state-of-the-art silicone optics, LSI's Slice lighting is available in several light distributions, including near-zero backlighting and zero uplighting.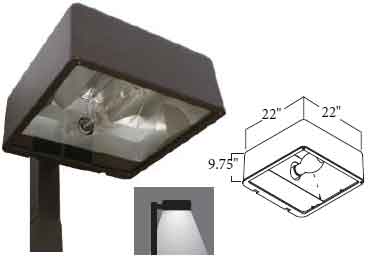 In addition to LSI Slice fixtures, our batting cage lighting kits also come with three LSI square steel lighting poles. Each pole is also finished with a durability-enhancing powder coat, and inner-coating options are also available for these poles to protect against water intrusion and rust.
To produce optimal light distribution, each light is mounted at a 16' height. In addition to the lamps, fixtures and poles, LED Spot also includes anchor mounting bolts and base covers. Base covers are color matched and also powder coated for corrosion and damage protection.
Click Here to Get a Free Quote!
The prices listed below do not include sales taxes, however freight is prepaid and allowed on orders over $4,000.
Package is priced at $4835 and includes the following:
3 SLM-30L-2-UNV-40-COLOR (Slice Medium 30L fixture)
3 4SQ-B3-S10G16-S-COLOR-GA-4BC (16' Square Steel Pole)
The above price is effective as of 10/25/22 and are subject to change without notice. Please contact LED Spot for lead-time estimates.