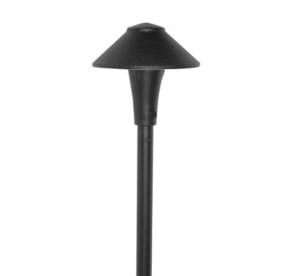 When beginning to think about home or commercial lighting, path lights are usually a great place to start. Used along walkways, staircases and paths, they provide gentle illumination to help guests reach their destination safely during the dark of night. In addition, walkway lighting showcases existing landscaping and gives homes or businesses a glow that is warm and inviting. This type of lighting also acts as an added safety measure against thieves. Burglars are less likely to strike a home or business that is well lit. Beautiful and practical, pathway lighting is an easy and simple way to elevate the outside of any home or commercial business.

The first step in designing a great lighting concept is placement. Where is the best place to use path lights? Anywhere that visitors will be walking, but focusing particularly on places that may be hidden at nighttime or would be dangerous to walk on without proper lighting. This includes stairs, steps, and rocky paths. Walkway lighting can be used in the front of a home or business or in the backyard of a home, leading out to a fire pit or swimming pool. Typically path lights have a pointed end allowing them to be staked into the ground securely. Place them strategically so they don't get kicked or hit while people are walking near them. Also, make sure if they are placed along a lawn that they will not be destroyed by lawn mowers and other landscaping equipment.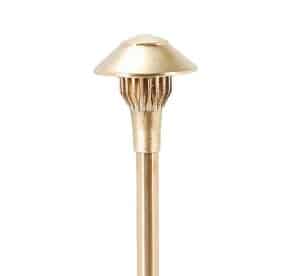 Once placement has been decided, the next step is selecting the right design of light that is best for the space. There are a large variety of styles, sizes, colors, and bulbs currently available. LED bulbs are a top choice for path lights for a variety of reasons. Firstly, they are highly efficient, using up to 90% less power than traditional incandescent bulbs. This ultimately decreases electric costs. In addition, LED bulbs last far longer than incandescent bulbs. LED bulbs can last through 60,000 hours of constant usage without burning out, compared to 1,500 hours from traditional incandescent bulbs. The most important benefit of choosing LED is the high level of safety they offer. LED lights do not get hot to the touch, even after hours of usage. This is especially important as there is less risk of fire and burns.
As for the fixtures themselves, there is a wide range of styles and colors available. The most well-known and common styles are the China hat and pagoda hat. Pagoda hat fixtures are typically available in double, triple, or quadruple tier and are most often used in community areas and parks. The tiered design makes them great choices for larger areas as they cast light through the sides of the tiers. China hat fixtures are great for sidewalks, pathways, and yards, as the hat design allows the light to be cast on the ground, providing great visibility for guests as they walk around. Both designs are made of a variety of materials, including cast aluminum and cast brass, which can be made in a variety of finishes to match almost any environment. Both cast brass and cast aluminum are long lasting, more lightweight than their solid counterparts, and they are both extremely durable.
A solid foundation for exterior illumination, path lights offer safety, security, and beauty that is long lasting and efficient.