LED Spot now offers professionally designed basketball court lighting packages. Approved by certified lighting designers, these packages come with everything you need to provide full, even illumination for night time basketball games. These packages come ready to install by a certified electrician without hassle or delay!
We currently offer two basketball court lighting packages:
These kits eliminate the guesswork behind illuminating your outdoor basketball court. Making use of professional grade 1000w metal halide, forward throw fixtures, davit style mounting brackets and carbon steel poles, our basketball lighting kits provide dependable results through quality, long-lasting materials.
Our basketball court lighting packages are available in a wide range of options including galvanization, powder coat finishes, duplex receptacles (electrical outlets at the base of the pole), as well as 5″ diameter poles for extra strength. We also offer the option of pre-shipping the anchor bolts, so that you can prepare the concrete bases while you wait for the poles to arrive. Our basketball court lighting packages have a standard 10-15 day lead time, so your outdoor basketball court can be ready for evening play in a matter of weeks.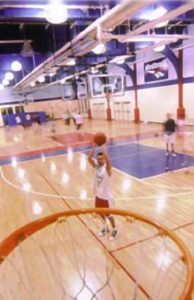 Best of all, our basketball court lighting packages are priced competitively. We have thoroughly researched the outdoor sports lighting market in order to provide you the highest quality, longest lasting and most reasonably priced poles and fixtures money can buy. We are sure you will not find another basketball lighting package that is better designed, or easier to order. Simply give us a call. One of our sales representatives will walk you through all the options available to you, and answer any questions you may have. Shopping after hours? Simply click "Add to Cart" and you can place your order online. A helpful customer service representative will contact you on the next business day to make freight arrangements.
Our basketball lighting kits generally ship from Cleburne, Texas and freight costs may vary. However, we have found that the base price of our kits are so low that most customers still save money by buying through us, as opposed to local channels. In any case, it is free to request a quote from us. Give us a call, or simply choose the "Add to Project" option. After you create a user account, you will have the option of submitting a quote request to our sales staff.
Do these basketball court lighting packages not suit your particular needs? Not a problem. Our expert lighting designers are ready for custom projects. Whether you have an irregularly sized court, local codes to adhere to, or just want more light than our projections show, we can find a solution that is just right for you. Here at LED Spot, affordable sports lighting is our specialty!