It's not easy shooting hoops in the dark, but it's also not easy finding a basketball court lighting system that will provide your court with enough illumination. The solution for most facilities is to work with a lighting expert – one who has experience with basketball courts. Why does that experience matter?
Most basketball courts are built with standardized dimensions, so a single lighting system can be designed for the vast majority of courts out there. A lighting installer with basketball court experience is familiar with the relevant photometrics, so they're the best option when designing and installing a new system. Because they know how light behaves on the court, they know how to minimize glare and optimize light levels.
What Does A Basketball Court Lighting System Include?
The goal of a basketball court lighting system is even, high output. To achieve that, you'll need quality LED lighting that's optimally positioned. We've put together basketball lighting packages that satisfy those needs and include the following:
Four 20′ lighting poles, made from 7-gauge hot-rolled carbon steel.
Four 240-watt LED lights, designed with Type III distribution and 120V or 277V operation.
Four sets of pole anchor bolts and templates.
Four adjustable slipfitter mounts.
That's for a full basketball court. For halfcourt lighting, a pair of poles and fixtures is sufficient. In both cases, each light fixture is mounted at a height using LED sources with a type III lighting pattern. Type III lighting needs to be placed to the side of the area, allowing the light to project outward and fill the area, producing a filling light flow. Instead of lighting the wall behind them, type III LEDs produce light where it's needed most – on the court.
Five Reasons To Consider LED Lights For Your Basketball Courts
Until recently, metal halide technology was considered the top choice among court lighting options. That's no longer the case, as LED lighting products are now preferred in a variety of applications, including parking lot, wall pack, flood light, stadium, and sports court lighting projects.
There are a number of reasons for this change. Five of them include:
Minimal maintenance costs – LED fixtures are some of the most durable on the market, as they're a product of modern engineering. Instead of fragile filaments or gas chambers, LEDs are built on stable circuit boards. These can take the occasional bump or drop without experiencing failure, so it's less likely that your LEDs will suffer damage during shipping or installation.
Further, there are fewer failure points with LED fixtures, so less maintenance is required to keep an LED-based system running. That means lower maintenance costs, which facilities should account for when considering the price of LEDs.
Extended lifespan – LED lighting is also engineered to run much longer without failure. The typical LED lamp is rated for 50,000 hours of performance, though it's common for some fixtures to operate for 100,000 hours before replacement is required.
Compare this to metal halides, another popular lighting option for basketball courts. Metal halides only output for about 10,000 hours before they likely need to be switched out, which is only one reason the technology is becoming obsolete.
Less frequent replacement means less frequent replacement costs – another money-saving component of LED lighting.
High-quality, high-volume illumination – LED lighting once lagged in the quality department, but now it produces illumination that's superior to metal halides in appearance. Specifically, LED outputs light that can cover a large space and do it evenly. Some LEDs are also rated for excellent color rendering, so they can improve color vision at a distance – something that's important in any sport.
Instant-on functionality – Unlike most other forms of lighting, LED fixtures come with instant-on functionality. That means they output maximum lumens as soon as they are switched on. If your shootarounds tend to run a bit long, every minute counts. Instant-on capabilities ensure your players can get in and start practicing right away.
Expanded controllability – No other lighting technology is as controllable as LED lighting as it's compatible with a comprehensive array of controls. With their control flexibility, facilities can unlock greater performance from their LED solutions. Better lighting controls can also promote better safety and security.
Consider Accessories Like Occupancy Controls To Improve Efficiency Further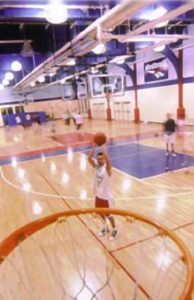 Controllability is a big advantage for LEDs, as facilities can unlock unmatched efficiency from their lighting solutions with advanced controls. Some control options include timers, emergency backup switching, and occupancy sensors.
For example, occupancy sensors detect when someone enters the gymnasium, and they switch the lights on in response. Occupancy sensors may detect IR (heat) signatures or motion, and many combine the two to make for a better sensor. There are also photocells, which are useful with outdoor basketball courts. Photocells detect the level of ambient light, so when night falls, they automatically switch on the lights. Once the sun comes back up, the photocells switch the lights off.
In every application, improved lighting controls save power and extend lamp life. In effect, lighting controls help reduce operating costs.
LED Spot Can Source And Install Your Basketball Court Lighting Fixtures
LED Spot specializes in lighting and installation. We know what LED fixtures to use, what light poles to install, and where to place each fixture.
We've also done the photometric modeling, specifically for basketball courts. That means our team is equipped to help your team get the light it needs to dribble, pass, shoot, rebound and hoop better.