Founded in 1961, Lutron first arrived upon the lighting control scene with the introduction of the first-ever "dimmer switch." This was the world's first solid-state electronic light dimmer, appropriate for home use, and replaced inefficient and unattractive rheostats and autotransformers.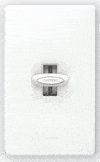 While Lutron still offers the same dimmer switch it offered in 1961, known today as the Rotary design, its product selection has expanded to include more than 10,000 products. As part of Lutron's commitment to "help you see your world in a different light," the company stands alone in the industry as an integrated solution for controlling light for virtually any residential or commercial project.
[ click here to view the Lutron Dimmers FAQ ]
We offer an extensive selection of Lutron dimmers & lighting control products for a wide range of applications, regardless of voltage or bulb type. The most common application, of course, is a home with incandescent bulbs powered by line voltage (120V). For such cases, we have a few different lines of Lutron dimmers to choose from:
Architectural Series – NovaT
Designer Series – Maestro, Diva, Skylark
Traditional Series – Ariandi, Rotary, Faedra, Qoto
Lutron dimmers may be used for low voltage applications as well, through the use of magnetic low voltage fixtures and transformers. For hard-to-dim fluorescent lights, Lutron offers fluorescent ballast controls. Fan controls are also available in the styles outlined above.
In addition to wall dimmers, Lutron offers comprehensive lighting control systems for entire-room or whole-home use. For entire-room applications, such impressive systems such as Lutron's Grafik Eye 2000 & 3000 series allow virtually unlimited flexibility and control. Lutron's Grafik Eye gives you complete control through the use of wall mount terminals, designer wallstations, and remote controls, each of which can be programmed with up to 8-preset "scenes."
For whole-home lighting control projects, Lutron's RadioRA is beyond compare. RadioRA is the world's first radio frequency lighting control system, which offers wireless communication between all system components. Using any number of Lutron controls, including wall stations, remote controls, table controls, astronomic time controls, car controls, and even a telephone, you can clearly monitor the lights throughout your home, as well as switch between a number of preset scenes. We offer a number of RadioRA packages, which have everything you need to get started.
Lutron's high quality lighting control products, dimmers and other fixtures are suited to residential as well as commercial applications. If you do not see the Lutron products you are looking for, do not hesitate to give us a call. The experienced professionals at LEDSpot is happy to share their expertise about the full range of Lutron lighting control products we offer, and help you choose exactly the right fixtures for your project.