Shop Our Catalog For: Gooseneck & Sign Lights
---
Sign lights have a straightforward purpose: put simply, they illuminate signage. Whether it's a placard in front of a shop extolling the benefits of a product or service, a billboard standing along a highway, or an advertisement proudly displayed deep in a metropolis, every sign communicates a message to an audience.

Signs are made to be seen and when they can't be seen, they're simply not doing their job. When it's night time or the light is low, they require illumination to draw eyes to the message that they're intended to convey.
As any engineer who has worked on sign lighting designs will attest, this is an art form and getting it right can be the difference between an important message going unseen and a message received loud and clear. An advertisement successfully reaching its intended audience can increase revenue for a business.
Proper illumination has to be smartly placed and properly metered. It's important for the intended audience to see the message, rather than the lighting itself. As a result, it's a good idea to bring in a professional to look at the landscape and determine the best option. This will also be helpful in choosing the right type of fixture.
Types of Lighting for Signage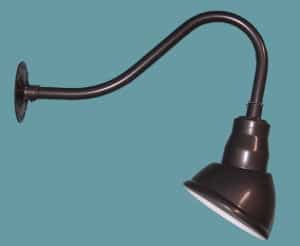 With an appearance similar to the long and curved neck of the bird from which the name is derived, gooseneck lights are used for a wide variety of applications that call for lighting from above. In case after case, gooseneck lights—whether singular or as a group—are exactly what a sign needs to be seen. These lights come in a wide variety of colors, sizes, and shapes, each ready to fit in with its environment, including any color scheme that one can think of.
In addition to being aesthetically pleasing, goosenecks are durable. When installing them outdoors, it's important that system components can handle the harsh elements of changing weather, which will keep any need for repair or maintenance to a minimum.
Most goosenecks are also fully adjustable, meaning that they are ready to be altered whenever the need arises. This is a particularly useful feature for situations in which a new sign needs to be place or when one desires to alter a light's emphasis.
Sometimes it's best for sign lights to illuminate from below. The reasons for this are many: sometimes there's a lack of space and in other situations illumination from this angle simply looks more impressive. Whatever the case, ground mounts present a solid solution in many cases. Paired with eye-catching signage and texture, one can expect dramatic and attention-grabbing results, and ground mounts are available in a variety of styles.
Other Sign Lights 
Beyond goosenecks and ground mounted sign lights, there are mounts that are ideal for nearly every need. In fact, there are so many varieties on the market that it's simply a matter of surveying the possibilities and deciding what works best with the overall theme and aesthetic approach. A lighting designer can help choose the perfect solution for any application.