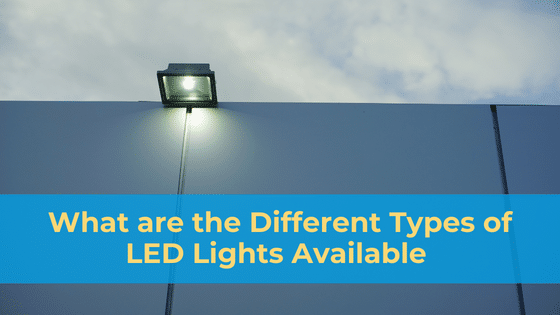 LED technology is taking over the lighting industry. There are many reasons why, including LED's versatility. LED fixtures have been adapted for numerous applications, and this engineering evolution is still in progress.
In fact, there's an LED light for nearly every use and setting. Residential, commercial, industrial, decorative, indoor, outdoor – LED bulbs can be used everywhere. Here, we'll take a look at the wide world of LED fixtures, and the role they play in each application.
Outdoor LED Commercial Lighting: Parking Lot, Wall Pack, Security and Sign Fixtures
In exterior commercial applications, LEDs are prized for their energy efficiency and excellent brightness. LED light bulbs generate high quality output that renders color well and distributes lumens evenly. This makes the technology an excellent choice for the following applications:
Parking lot lighting – LED parking lot fixtures offer excellent visibility at night and at long ranges – perfect for improving safety. Another big advantage: LED lighting is directional, so it can be distributed and aimed with precision. In fact, these lamps are available in several distribution patterns, so lighting designers can optimize ground-level lumens without any light trespass.Parking lot LEDs are available in several color temperature options, including warm, cool, and neutral white.
Wall pack fixtures – Wall pack LEDs function like other wall pack fixtures in that they're mounted to the exterior facade of buildings, parking garages and other structures. From their elevated position, wall packs can provide an extra layer of illumination for general visibility purposes. However, they excel in security lighting applications. In this role, wall pack fixtures can be tied to occupancy sensors (motion or IR) and primed to illuminate when someone walks nearby. That's ideal for general, safety, and security applications, especially if surveillance cameras are programmed to engage automatically when the security lights flash on.
Sign fixtures – LED lighting is an effective display option, too, and can be used to illuminate signage at night. Gooseneck fixtures, for example, are highly adjustable and have an eye-catching bend that stands out. LED gooseneck fixtures are mounted close to the target sign and fitted with an LED that distributes illumination like a spotlight. The result is bright, sharp and attention-getting.
Outdoor Venue Lighting: Sportslighters and Decorative Pole Fixtures
LED technology can be scaled up for the largest venues in existence, including professional sports stadiums, rodeo arenas, tennis courts and municipal parks.
LEDs can be integrated into the oversized displays you'll see at professional sports venues. Most of them are LED video walls, which offer superior resolution and color richness, compared to Jumbotrons. Some large-scale displays are made with direct view LED panels, like microtiles. These direct view panels can be scaled up to nearly any degree, can be shaped or curved, and are easier to maintain.
In smaller venues, like neighborhood tennis courts, skate parks and the like, pole-mounted LED lights are a reliable choice. Quality lighting poles are made from galvanized steel, coated to protect against corrosion and available in several shapes, sizes and heights. With their design versatility, LED light poles can be adapted for any area.
For lighting park paths and neighborhoods, decorative poles and post top fixtures are a popular choice. LED posts are shorter than standard lighting poles and are ornamentally designed.
Landscape Lighting: Bullets, Floods, Bollards and Path Fixtures
LED bulbs have also been adapted for landscaping applications. Effective in residential and commercial settings, LED landscape lighting is available in several fixture designs. They include:
Bullet fixtures – Bullet fixtures function like spotlights in a landscaping setting. They fire a tight beam of illumination that's ideal for lighting trees and building facades. Bullets are also easy to conceal, especially when they're mounted on the ground close to the intended target.
Flood fixtures – Floods are the opposite of bullets. They cast a wide, short-distance beam that fills an area with bright light. Floods are ideal for illuminating a backyard and extending the home's functional space at night. They're also effective for illuminating entire building facades and other points of interest outside, like a garden or fountain.
Path fixtures – Path fixtures sit low to the ground – usually under 18 inches – and softly illuminate any adjacent path. They're helpful for visually pointing out where walkable paths and landscaping are located. LED path fixtures are reliable, can run on low voltage (for better safety), and can be attached to photocells or timers for maximum efficiency. They're also available in a huge number of designs, so they can be aesthetically matched to any property.
Bollards – Bollard lighting is named after the bollards you'd see at a dock or in a parking lot. They look like simple posts, ranging in height from a couple of feet to eight feet high. They serve the same function as path lighting, but are more appropriate for larger properties, given their larger size and visual impact.
Indoor Commercial Lighting: Bays and Linear Lighting Fixtures
For interior commercial applications, LED's efficiency, low maintenance, and controllable design make it a cost saver for facilities.
When department stores, warehouses, manufacturing facilities and industrial facilities upgrade their lighting, they often do so with LED bays or linear fixtures. Bay lighting is either mounted to the ceiling or suspended from it, and it provides high-output general illumination for large interior spaces. LEDs have been adapted for both high and low bays, so they can be mounted to ceilings ranging from 12 to 45 feet. LEDs have also been adapted for linear (rectangular) and UFO (circular) fixtures. UFOs are more common, but linear bays are highly effective for illuminating long, narrow spaces like warehouse aisles.
LED linear lighting fixtures are also popular options in commercial applications, including office and retail applications. Linear LEDs are frequently used to replace fluorescent tubes, where they can provide more efficient and better-quality lighting.
LED Lighting is Available in Nearly Every Form and Fixture
LED lighting offers a long list of advantages, including design flexibility. It can be incorporated into almost every lighting application possible and scaled up or down as needed for any setting.
LED lighting technology has come a long way in a short time. A decade ago, only the most plugged-in industry experts could have seen the rapid rise of LED fixtures. Now, the technology is poised to become the number one choice for every lighting application.