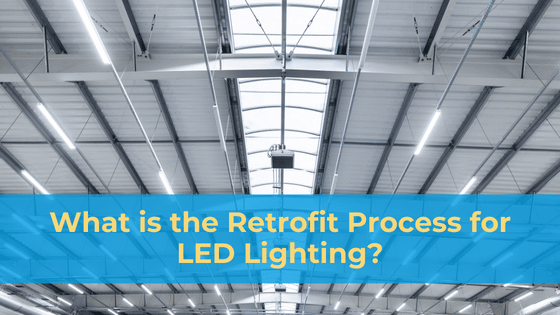 LED lights are improving all the time, with more efficient, longer lasting and better performing fixtures constantly being introduced. LED lighting represents more than half of the lighting market already, so it's safe to say that LED lighting solutions are here to stay.
Most business owners recognize the benefits of adopting an LED lighting system, but accounting for procurement and installation costs is less clear. If your organization doesn't have the funds for a new lighting system, retrofitting LED bulbs is a viable option. Through retrofit solutions, facility managers can attain the advantages of an LED lighting system without the cost of total replacement.
What the LED Lighting Retrofit Process Looks Like
If your organization works with an experienced lighting installer, then the retrofit process is fairly straightforward and looks like this:
The lighting team performs an audit and site survey – It's impossible for lighting installers to know what they're up against until they review the organization's facilities. This may include studying the building's drawings for where fixtures are placed, along with performing a physical inspection of existing fixtures.
With this information, the installation team can perform an energy audit and ascertain how much money the company can save with a retrofit. An energy audit will also reveal where power is being wasted by the existing system, so targeted improvements can be made.
A photometric plan may be developed for the building – Commercial and industrial facilities must meet certain lighting requirements when installing new fixtures. This includes minimal lighting levels (measured in foot candles), depending on the application. Lighting an office building, for example, requires a different set of fixtures and different lamp positioning than a grocery store.
To account for a building's unique size and space layout, lighting installers may produce photometric drawings for the project. Photometric modeling allows lighting designers to simulate various lighting solutions for their client. During the system design, the designer can move lights around and try out different lamp models to see which approach works best.
Once complete, the designer will provide photometric drawings to the client and project management team so they can verify the project's details. This includes which fixtures will be used for the project and how many fixtures will be installed.
The retrofit fixtures and lamps are installed – With a plan in hand, the installation team can get to work accessing the fixtures and installing the new lamps. Depending on the exact fixture model being used, the fixtures themselves may need to be switched out. Additional wiring may also be necessary, and this may greatly increase the project's complexity. If wiring is required, working with lighting professionals is highly recommended.
A Few Reasons More Facility Managers are Retrofitting LED Lighting
Switching to a new lighting solution is a significant commitment, so why are many facilities transitioning to LED lighting? There are several reasons, including:
Improved energy efficiency – LED lighting is the most energy efficient on the market. Compared to legacy lighting technologies like incandescent and fluorescent, LED lamps generate more light per watt. In some cases, this can be a difference of 70 percent or more, depending on what type of lights are being replaced.
With lower electricity consumption, organizations can recoup their investment quickly while transitioning to greener lighting solutions.
Reduced maintenance costs – LEDs are a product of modern engineering and are built to be more durable and reliable than previous lighting technologies. While the typical fluorescent tube is rated for around 10,000 hours of performance, LED lamps offer 50,000 hours of light, or more.
Added controllability – While retrofittable LEDs aren't as controllable as a brand new LED fixture and lamp, they can still be used with dimmers and some other controls. Compared to legacy systems, LEDs can be controlled with greater precision and without placing additional stress on the lamp – which is often the case with fluorescent lamps. With better controllability, your new LED lights can be configured to output at varying levels, saving money when lighting isn't needed in certain areas.
What is the Typical ROI for a Retrofit LED Lighting System?
With the above advantages, LED retrofitting can offer a quick ROI, though it depends on the scale of your project. When assessing potential savings, many facility managers focus solely on energy efficiency.
Another major factor to consider is the reduction in maintenance. Since LEDs allow facility managers to control their maintenance costs, an organization's ROI may be as brief as a couple of years. Typically, the ROI attached to a retrofit solution is between three and five years, but even then, that's a rapid return compared to other facility upgrades.
And once a company reaches the ROI threshold with their LEDs, the system will continue to save the organization money year after year.
The Cost of LED Retrofitting Depends on a Few Different Factors
It's impossible to accurately estimate the cost of an LED retrofit without first surveying the organization's facilities. During the site survey, the installation team will take note of a few important cost-related factors. These factors include:
The number of fixtures to retrofit – Part of the project's cost is related to the number of fixtures to procure and install. The more fixtures the organization needs, the more the retrofit will cost.
Whether the existing fixtures can take retrofit LEDs – Some existing fixtures are not compatible with retrofit LED lamps, though many are. During the site survey, the lighting team will note what fixtures are present and whether they can be used with a retrofit installation.
The impact of utility rebates – Organizations are incentivized to modernize their lighting systems through utility rebates. These rebates may be offered per-fixture, which means they can add up quickly for large projects. Once rebates are factored in, the ROI time may be reduced by several months or more.
LED Lighting Retrofits are an Ideal Option for Lighting Upgrades
If your organization is interested in LED lighting technology, but not in the cost of a brand new solution, retrofitting the LEDs offers an ideal compromise. LED light retrofits require minimal alterations to your existing infrastructure, and they offer comparable performance to a new system.
Unsure which type of retrofit fixture to target? An expert lighting supplier and installer can help. There are many LED retrofit lamps to choose from, including retrofit T4 and T8 tubes. Some retrofittable LED fixtures are also designed to work with an existing ballast or with no ballast at all. In short, there are many retrofit lighting products to choose from, and an experienced lighting team can help find the right solution for your retrofit.