Consider the many benefits that outdoor hanging lanterns offer both the design consultant and the individual creatively minded homeowner.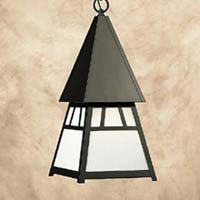 Outdoor hanging lanterns provide a very practical and much needed function by providing outdoor illumination around any structure from which they can be suspended.  Outdoor hanging lanterns are also fantastically decorative, and LEDSpot's online selection offers an expansive range of choices for those decorating from both a traditionally minded perspective and for those who intend to stay abreast of current trends.  We also include many fine models that in spite of their commercial grade quality offer an affordable price point for home decorators on a budget, or for those who live in rural areas and smaller houses with only 2 or 3 bedrooms.  Traditional outdoor hanging lanterns can function as the primary keynote of an outdoor decorative theme, or they can provide counterbalanced contrast to architectural and landscape lighting designs of a more high-end nature, and they provide a wealth of opportunity in both style and task lighting.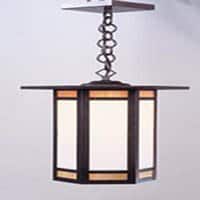 Indeed, style and decorative movement define our selection of outdoor hanging lanterns.  In today's world of design, the Arts and Craft/ Mission style is perhaps one of the hottest decorative trends on the marketplace.  Outdoor hanging lanterns in this style combine a superb blend of mold, metal, and glass to compliment eclectic bungalows, cottages, and urban lofts alike.  Some of our more popular designs include Franklin, Pendant, and Glasgow models available in glass styles ranging from iridescent and off white to antique copper and metal finishes.  For those who prefer to decorate in brass, we also have low voltage outdoor hanging lanterns that feature 2000 bulb hour lamp life and unfinished brass fixtures.  These are a favorite for landscape lighting designers to use in decorating client flowerbeds or garden areas adjacent to a home or office building.  For a more elegant touch over an outdoor dining area, such as the ones found in country clubs and fine hotels, consider a candelabra base pendant design for a refined outdoor touch.  For true eclecticism, we offer contemporary outdoor hanging lanterns that feature low voltage wall mounts and progressive styles in fixture design.  These are an ideal choice for designers to recommend to young clients living in progressive urban areas, as they combine both a sense of forward motion and a power saving economy that makes them very attractive line items on any bid.
Looking to LEDSpot as a one-source supply depot for outdoor lanterns and hanging pendants makes it easy for both contractors and artistically motivated homeowners to find exactly what they need in one conveniently organized selection.  For contractors, there is an added benefit available through our vendor contracts with top-name manufacturers, as lighting design clients often request specific fixtures from specific manufacturers and contractors will need access to these companies to win the bid.  For homeowners on a budget, we offer both high-end and budgetary options and provide complimentary design suggestions over the phone or through our Ask an Expert e-forum.  We are always willing to give advice on which additional fixtures will compliment your selection, and which outdoor hanging lantern accessories will work best with your desired theme.
There are many economic benefits and aesthetic benefits that follow those who choose LEDSpot as their vendor for outdoor hanging lanterns.  Many of our clients have already invested in lanterns they have purchased from retail facilities that promised them a "bargain" on price, only to later regret their choice due to low lamp life and poor fixture design that does not hold up under certain elements.  They also find it something of a nuisance when they only have 120V options available and the lanterns end up staying on longer than planned, thus raising the power bill.  LEDSpot can alleviate this stress with low voltage hanging lanterns alternatives that offer an immediate, tangible savings on energy costs and long-term savings on replacement costs.  Contractors can also economically benefit from having the very best materials and the most attractive designs to offer their clients on a line-item basis, thus giving their proposal more power and more options from the perspective the client.
To obtain more information on a particular fixture, contact us, or simply order now and get suggestions on installation and complimentary fixtures and lamps from a specialist on the phone.