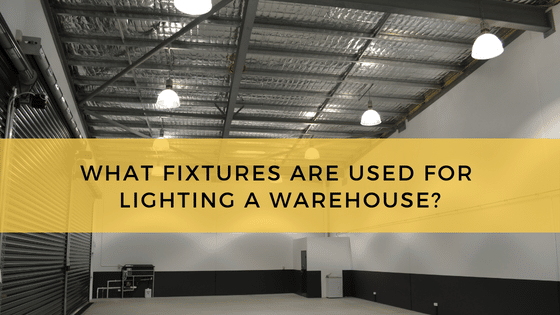 Warehouses are a challenge to light due to their size and because of the activity inside. Warehouses are busy places where workers are frequently engaged in high-risk tasks. To ensure they can do their jobs safely, you'll need a high-output lighting system that renders color well and provides even coverage.
LED fixtures can provide that and more. As a result, you're likely to see LED lights more often in warehouses these days. They're quickly replacing high intensity discharge (HID) fixtures for several reasons.
Most warehouses feature extremely high ceilings, ranging up to 40 feet or more. In spaces like these, where verticality is the defining feature, high and low bay fixtures are the standard.
In the lighting industry, the word "bay" refers to illuminating a large space. That means they're designed for a large area like a warehouse.
There's only a couple of differences between low and high bay fixtures. They are:
Mounting height – Low bay fixtures are intended for ceilings between 12 and 20 feet high. High bay fixtures can be mounted to ceilings between 20 and 45 feet high.
Output volume – Low bay fixtures don't output as much light as high bay fixtures, given their shorter throw distance. Because of this, low bay fixtures consume a lower amount of power than high bays.
You've got plenty of flexibility in mounting bays. They can be mounted directly to the ceiling or suspended at varying heights. This gives facility managers layout flexibility when setting up the bays.
There are also bay lights sealed against water and solid intrusion. They're ideal for warehouses where high dust and humidity levels are common, and feature IP65 ratings or better. Further, bay fixtures come with anti-glare features that improve comfort and visibility at ground level.
Bay Fixtures Are Available In Linear Or UFO Designs
The other major difference between bay designs is shape. Bay lighting products are available in linear or UFO designs, and both are common options for warehouse applications. Here's a quick look at each:
Linear bays – Linear lighting is rectangular shaped and therefore suited for illuminating aisles, reception, and dispatch areas.
UFO bays – UFO bays are called such because they look like little round flying saucers. Because of their circular shape, UFO bays emit in a circular pattern. This is an effective choice for general lighting purposes or for loading bay areas.
The Problems With HID Lighting
HID lighting was the warehouse lighting technology of choice for a long time. HID bulbs output a lot of illumination, making them one of the best options for lighting outdoor areas or a large indoor space.
However, this high output comes at a cost. Specifically, high energy costs. HID fixtures like metal halides and high-pressure sodium lamps require a lot of power to function. At the source, metal halides aren't too bad, though they're still behind LED light bulbs in source efficiency.
It's at the system level where metal halides waste a lot of electricity. That's because of how a metal halide fixture emits light. Metal halides emit omnidirectionally, so a lot of their output never reaches the floor level where it's needed most. They emit a lot of light, but much of it never reaches the intended target. Reflectors can mitigate this to some extent, but they're heavy, expensive, and still not as effective as LED fixtures.
HID lighting tends to degrade quickly, too, and you can expect the typical metal halide to fail around 10,000 hours. Many will need to be replaced early because metal halides tend to decline in color rendering or output as they age.
Four Reasons Why LED Lighting Is Ideal For Illuminating Warehouses
LED is quickly emerging as the first choice in warehouse and bay lighting. LEDs come with several advantages over other lighting technologies, four of them including:
Better energy efficiency – No other form of lighting offers the energy efficiency that LED does. LED fixtures have the best watt-to-lumen ratios on the market, and because they emit directionally by design, LEDs are able to get more of their illumination to workers below.
Even compared to efficient technology like fluorescent lighting, LED excels. It's common to find an LED equivalent to a fluorescent tube that requires half the wattage.
Further, LED lighting emits extremely low amounts of heat and won't stress your HVAC systems in the process. That way, your energy costs are minimized further.
Extended lifespan and low maintenance design – Maintenance is one of the most important factors to consider when installing warehouse lighting. When warehouse lamps fail, you'll need special equipment (like a bucket truck) and expertise to replace them.
Compared to other forms of lighting, LED fixtures require the least amount of maintenance. It's common for LED lights to go years without a single issue. They also last far longer than other fixtures. The typical LED bay will provide upwards of 50,000 hours of quality illumination. Metal halides (which are quickly becoming obsolete) only provide 10,000 hours, and even fluorescent tubes are only rated for half as long as the average LED light.
High quality output and color rendering – LED lighting technology has come a long way since it was introduced decades ago. The biggest gains have come in lighting quality, to the point where LED fixtures emit light that is comparable or superior to HID and halogen.
LED lighting is extremely bright and makes for an ideal overhead source. It's even as well, with no dim or dark spots, and no shadows resulting from fixture design. It's also available in range of color temperatures, including neutral hues in the 4000K to 6000K range.
Further, LED warehouse lighting is available with high CRI-ratings, so it represents colors very well. That's important for safety and productivity reasons.
Excellent controllability – Nearly every lighting control in existence is built for use with LED lighting. Attach dimmers to the bays to adjust output exactly where it's needed, balancing brightness and energy usage. Pair timers or occupancy controls with your bays, and they'll only switch on when needed.
There are LED drivers that can facilitate instant start as well, which is valuable for facilities where time is money. That includes warehouses.
LED Spot Is Your Warehouse Lighting Source
If you're overseeing a warehouse lighting project, you've probably got questions about what type of lighting to choose. The LED Spot team can help with those questions and help with everything else regarding your warehouse lighting project. We carry a deep inventory of lighting, including many types of LED warehouse lighting.
Whether you're updating an existing system or preparing a system for new construction, we're the experts to call.