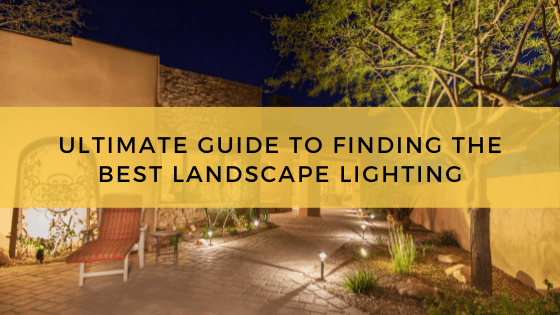 With all of the time and effort we spend making the interior of our homes and businesses as attractive and functional as possible with high-quality lighting products, why do we so often forget to do the same for the exterior? The truth is there's no point in investing in the natural beauty of our yards and exterior spaces without the proper landscape lighting to tie it all together.
Here, we'll go over the importance of landscape and outdoor lighting, types of outdoor lights, and where to purchase the best landscaping lighting.
What is Landscape Lighting?
Just like interior lighting, landscape lighting is a way for home and business owners to accent, highlight, and feature certain aspects of their outdoor space. Whether used to illuminate hidden details in the garden or help guide visitors along a pathway, landscaping lighting can provide everything from aesthetic beauty to dramatic effects to functional visibility at night.
Whether you look at your local hardware store or search online for unique options, there are many types to choose from when looking for landscape lighting. Each kind of outdoor light has its pros and cons. Generally, low voltage lighting is the most popular choice, as it is safer for homes and businesses. There are many varieties of safe landscape lighting to choose from. In order to choose the best type of light for your needs you'll need to first understand the different kinds of lights available. Some of the most common types of landscape lighting include:
Traditional Landscape Lights – Using traditional light bulbs, this type of landscape lighting provides a warm glow that can be used on the ground to highlight features in the yard or in foliage like bushes or trees.
Integrated Landscape LED Lights – Using built-in high-quality LED modules offers better performance and reduces the need for constantly changing burned out bulbs.
Solar Powered Landscape Lights – Solar-powered lights allow for optimal flexibility in placing landscape lighting, as the sunlight charges the light, rendering a nearby plug unnecessary.
LED Spot offers a wide variety of the above landscape lighting types available for shipping. Whether you're looking for copper, brass, gold, black, or other colors, our wide range of landscape lighting products in various LED types and sizes are sure to perfectly accentuate your outdoor space.
Unique Landscape Lighting Techniques
Landscape lights are not as effective without the right placement and design techniques. Choosing which light is best for your needs is just the beginning. Once you've selected a product you need to determine how the lighting will be arranged to optimize the look of your landscaping. Examples of types of popular outdoor lighting products and the best ways to use them include:
Path lights – These lights can be used to illuminate walkways, driveways and other locations that may be precarious in the dark.
Well lights – These kinds of lights are typically recessed into the ground and can be used to highlight plants or architecture from below.
Bollard lights – Available in various design styles, these usually come in either a round or square shape, 36" – 42" in height. They mount to the ground and are used to illuminate plants and pathways.
LED strip lights – These light fixtures are great for signage, as well as lighting walls from the top or bottom of your home or building.
Hanging light fixtures and wall sconces – Whether hung from a tree or placed on walls these lights can bring the eye up to fully take in the entire ambiance of your landscaping experience.
Ceiling fans with lights – On outdoor patios and gazebos ceiling fans can help keep outdoor spaces cool while also illuminating gathering spots.
By utilizing a variety of lighting options at varying heights and of various styles, you can create intricate light solutions in your outdoor space. Choose lights that compliment your outdoor space's design style. If you're into more modern designs choose sleek, streamlined lights. Whereas if you like more traditional lighting you can opt for more ornate fixtures. Choose colors that compliment your theme and be sure the landscape lighting products you choose are durable and weather resistant. There's no point in investing in outdoor lighting that won't last throughout the years. Lastly, choose a lighting provider that is known for selling quality products.
The world of landscape lighting is vast, encompassing all kinds of lighting types, bulbs, and design styles. With so many different types of landscape lighting products available, where does one even begin?
Since 1985, LED Spot has been providing the best residential and commercial lighting solutions to customers throughout the U.S. and beyond. Our more than 30 years of experience in the lighting industry has given us keen insight into the best and most high-quality lighting products available. We work with more than 20 manufacturers, allowing us to offer the latest in lighting technology to everyone from the DIY homeowner to professional contractors.
In an industry that is constantly changing, LED Spot maintains its reputation as one of the leading sustainable lighting solution providers. Ready to begin your landscape lighting project? Check out our extensive line of landscape lighting products and turn your vision into reality.