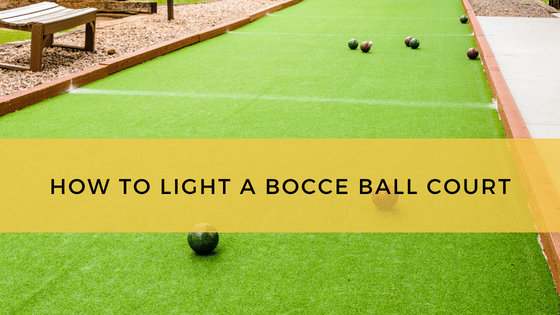 Bocce ball is an old game, with roots dating back to the Roman Empire. First popularized in Italy, the sport is now loved world-wide to the point where many avid players have installed bocce courts in their backyards. While bocce court installation is simple and straightforward what's more of a challenge is properly lighting the bocce ball court surface. Whether the court is at a home or a public spot bocce ball courts aren't usable at night unless there is enough illumination to see and safely play by.
What Does a Bocce Ball Court Look Like?
A bocce ball field is rectangular stretching out to just shy of 90 feet long for official play. That may be too long for some areas which is why many choose to reduce the court's length to 60 or 72 feet. Width wise you'll need between 10 and 13 feet to have enough room to play.
Beyond that you have options when it comes to court design. For example, your court may be dug out of the ground or installed slightly above it. Keeping height at a minimum and carving out a small area around the court will give people room to gather and socialize. For this reason it's common for bocce ball courts to feature concrete pavers around the court's perimeter.
Integrate the Lighting Into The Bocce Ball Court's Design
If you are a business with an indoor court consider lighting placement from the outset as it's easier to integrate it directly into the court. Recessed downlights are a popular option as they can be installed right above the court's surface and therefore direct more light to it. Recessed LED fixtures are available that can be installed in wood or concrete, and they work best when spaced between six and 10 feet apart.
Consider Poles for Mounting Lights Above Outdoor Courts
If your court has already been placed, or if you don't want to fuss with integrated lighting you can get plenty of illumination with poles or bollards. Each pole only sits a few feet off the ground, with an LED fixture mounted at the top of each.
The light poles themselves are typically made from corrosion-resistant steel or aluminum so they're protected against the weather. The mounted LED fixture is aimed downward to prevent glare and to maximize lighting efficiency at court level. Since these LEDs are a bit more elevated the lights may need to output additional light to make up for the distance. Alternatively, optics that widen the beam's angle can spread light further and prevent excess contrast between light and dark.
Bollard Lights Are Another Popular Fixture Choice
Bollards are similar to poles in that they're mounted a foot or two off the ground. They're named after the bollard posts you'll see at a dock or along roadways, so they're wider in design than a slim-necked post.
If you don't mind carving out a little more room bollards can be matched for any court design. That's because they come in a massive variety of designs and aesthetics, so there's a bollard for every court. Some are completely transparent while others only contain small transparent panels that illumination can cast through.
No matter their appearance, bollards typically sit a couple feet off the ground. Some bollards are directional, while others emit in an omnidirectional pattern that makes them a better choice for larger entertaining spaces.
Whether your bocce lights are integrated into the court or installed above it, LED is the first choice in bocce ball court fixtures. There are a few reasons for this, including:
Energy efficiency – LED lighting is the most energy efficient on the market, in terms of watt input to lumen output. It won't stress your power bill to keep them on for hours at a time.
LEDs also have the longest lifespan among lights, so they don't require replacement as often. This keeps maintenance costs down. LEDs can be made even more efficient with lighting controls like timers or photocells. Both ensure the bocce court lights are only on at night, cutting energy usage greatly.
Lighting quality – LEDs provide excellent quality light, with even brightness and lighting clarity across the beam's range. That's why LEDs are relied on in security lighting applications, too. Your bocce court fixtures don't quite have the same responsibility, but their strong lighting quality ensures optimal visibility and color representation.
Durability and weather protection – Among their many great qualities, LEDs are also more durable than other forms of lighting. They can handle the stray bocce ball if struck, and if protected by an IP-rated enclosure, they are also defended from water and dust. As such, your LED lights will last for years, come rain or shine.
Two More Lighting Considerations: Color Temperature and Color Rendering Index
When selecting a fixture, it's not just about operating cost or fixture price. It's also about whether the fixture looks the way you want it to. That means considering color temperature and rendering.
Color temperature refers to the hue that the light emits, from cool to warm. Color temperature is measured on the Kelvin scale and neutral white sits around 4000K. Lower values are "warmer" (which means more red and orange) while higher values are "cooler" (which means white and blue). There isn't a single best choice in color temperature, but many prefer a warm color temperature as it's better at creating an intimate, relaxed atmosphere.
Color rendering is different. It refers to how well a fixture represents color accurately, and it's measured using the color rendering index (CRI). High-CRI fixtures (typically rated 90 or higher) are good at presenting colors in their true hue, which enhances visibility at night. If you use colored bocce balls for each team high-CRI lights will make it easier to play after sundown.
LED Spot Has Fixtures Perfect for Bocce Ball Court Lighting
Bocce ball is gaining in popularity, and if you or your clients like to bocce at night, you'll need the right fixtures to play with. Our expert LED lighting team can help pick out and source the fixtures for the ideal bocce ball project.