Shop Our Catalog For: Sports Field & Athletic Lighting
---
Every sport played at night requires lighting. That is without exception!  People need to see the games, as they always have since Roman times, and quality sport lights provide them with optimal visibility regardless of their positions in the stands.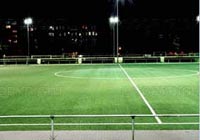 Sport lighting also meets the very real need for player safety. Since Roman times, the losing team no longer dies, so avoiding injury is paramount to every sporting event, and LED Spot sport lighting fixtures and bulbs provide the safest and most visible playing field for athletes throughout the world. We carry sport lights for every major form of game in our ever growing online inventory…
Baseball Field Lighting
We have baseball field sport lighters ranging in power from 400-1500W. Housed in a powder coated die cast housing with a formed aluminum lid, they feature a tempered flat glass lens and gasket with aluminum clamp band. We also provide sport lighter mounting arms, sold separately here. Place these all around a little league, minor league, or even major league ballpark and watch the game and not the fixture!
Basketball Court Lighting
While professional basketball is an indoor game, virtually every public park in America has an outdoor court for young and old alike. These courts range from half court to full court dimensions and require powerful lighting to compensate for the dissipation that is inevitable for any outdoor lighting fixture. LED Spot has the perfect source of lighting for half-sized courts. Our Techlight lighting fixture package includes one light pole, one bracket, one sport light fixture, mounting hardware, and lamp. It is a tough pole to say the least, made from galvanized metal that will not rust. It is easy to install and comes with a base cover included. For full-sized outdoor basketball court, we have full outdoor sport light packages that include six "thick poles that measure 25 feet in height and shine an even field of illumination on the game with 1000 metal halide lamps.
Equestrian Center & Horse Track / Arena Lighting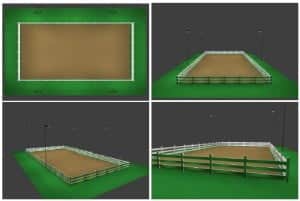 Horse racing continues to rise in popularity, and equestrian centers and horse tracks need lights that allow for both equine and human visibility. LED Spot has over 30 specialized sport lights for equestrian and horse tracks. We have both wooden pole mounted Techlight and steel pole mounted Techlight packages. Designed by certified lighting designers, these lights offer some of the very best visibility for man and horse alike.
Football Field Lighting
Football makes America great, and sports lighting from LED Spot makes it easier for armchair quarterbacks and retired superstars alike see the game better. We have some of the best iron cross arms for wooden poles available on the market, anywhere. Each one features a 4 light adapter for 400W, 1000W, and 1500W sport lighting fixtures. For fields with steel poles, we have 2 light adapters with the same wattage capacity that can be installed on any steel pole in key locations near the 50 yard line, the end zone, and on either side of the field goals so you can clearly see if the kicker makes it or not.
Tennis Court Lighting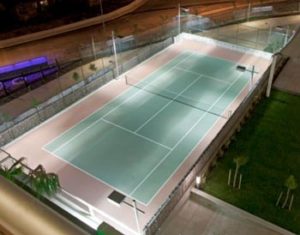 LED Spot has one of the very best selections of tennis court lighting available anywhere online. With multiple tennis court poles and fixtures by Techlight, we have everything high-end lighting clients need to put just tournaments in just the right light. Country clubs, resorts, five star hotels, and municipal parks can select from over 40 sports lights specifically designed for tennis court illumination. We also have a very well written article that goes into some detailed suggestions on how to use these high-end, durable lights and accessories. Click here to study it, and see our full selection here.
Soccer and Volleyball Lighting
One of the many key benefits that LED Spot products offer is versatility and adaptability.  Many of our sports lighting fixtures and mounting brackets work equally as well for soccer fields and volleyball court lighting applications.  Click here to see which lighting fixtures and lamps can be purchased in bulk to light volleyball courts and soccer fields for kids and pros alike.
Parking Lot Lighting
Commercial Lighting
Tennis Court Lighting
LED Spot can light up the night for fans all over the world with a simple online bulk purchase order, or contact us and we will find it for you. Our home office is located in Houston, Texas with warehouses located throughout the United States.