Many commercial food establishments are augmenting the aesthetic quality of their surroundings through the use of restaurant lighting.
Business owners typically use restaurant illumination for task lighting purposes. This is an extremely important aspect of any business, especially a restaurant setting, where many employees have to work in a kitchen around dangerous equipment. However, many restaurant owners are also looking for illumination to enhance the beauty of their surroundings for employees and customers alike. LED Spot offers a wide range of illumination products for any commercial setting.
LED Spot has numerous top-notch products from a variety of well-known manufacturers. We have a professional staff that knows their trade, and how illumination can interact with the environment to create a palate of moods. Our customer service specialists are available to answer any questions or concerns you may have about your restaurant lighting fixtures. Running a restaurant is a challenging task, but it can be even more difficult if you do not have the proper lighting in place.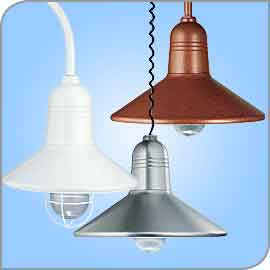 Owners need to have quality illumination within their establishment in order to function at a superior level. Quality restaurant lighting fixtures will increase work output among employees and also reduce the risk of a serious accident from occurring. Moreover, owners, who use illumination for aesthetic purposes, are more likely to increase their business. As soon as a customer walks through the door the first thing they will notice is the appearance of the restaurant. Having the right type of light fixtures in your establishment can enhance decorative architecture and leave a positive lasting impression on every customer.
LED Spot has plenty of items in stock for restaurant settings. Track lighting is one of the best ways to illuminate workstations for employees. These lights are connected to an overhanging strip and beam illumination downwards over counters, tabletops, and cutting boards. LED Spot has different styles and varieties of track lighting and kitchen track lighting kits to accommodate your needs.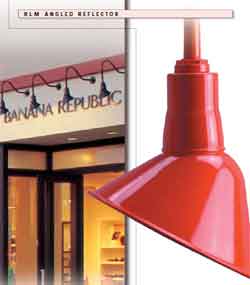 Advertising is an important part of any business. Many restaurant owners display outdoor signs and billboards around their establishment to advertise a "special" going on for that day or to let customers know about new and exciting menu items that are coming in the near future. Lighting is a great way to highlight banners, signs, and billboards, which aim to grab people's attention. LED Spot has numerous sign lights and a vast selection of bulbs for these fixtures. Many commercial owners are now turning to LED illumination as a creative way to highlight their signs. LED bulbs are energy efficient and produce very little heat. This form of light can add a colorful touch to your outdoor sign lighting theme.
Restaurant owners also aim to make a customer's indoor dining experience as pleasant as possible. LED Spot has pendant lights, which are perfect for illuminating sit-down tables. These lights come in a variety of styles and add a soft touch of light over serving areas. We also have beautiful crystal chandeliers for a more upscale setting. Chandeliers make any dining experience an elegant one and can leave customers dazzling over your efforts. Need illumination for your pictures or artwork? LED Spot has LED optical framing projectors, which give pictures, as well as paintings, a "lighted from within" appearance and can mask the light to fit the exact contour of the object being illuminated.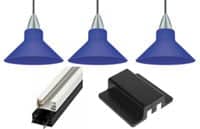 Restaurant lighting is the perfect way to make both your employees and customers content at the same time. LED Spot has an online venue, which contains a large inventory of illumination products. Every food establishment should look its best at all times, not just from a clean standpoint. Let LED Spot bring your business into a new showcase spotlight for all to enjoy!