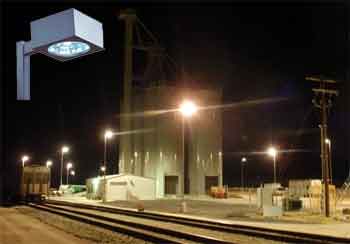 While we do not deny the increasing value of some of the products being manufactured overseas, we feel most confident in the products made within our own borders for a number of reasons. First, we feel that domestic manufacturers have a much better understanding of the needs for American businesses to honor increasingly strict dark sky laws, power saving requirements, and increasingly sophisticated lighting design demands.
Secondly, it is simply much easier to get replacements under warranty from US manufacturers in the event that any of your parking lot area lights do happen to fail. This is not to say that foreign companies do not honor their warranties. They do. However, shipping anything overseas is always tricky, so we recommend buying American when at all possible to reduce the likelihood of delays or complications if your clients do require a replacement.
How your parking lot area do lights rate on energy efficiency?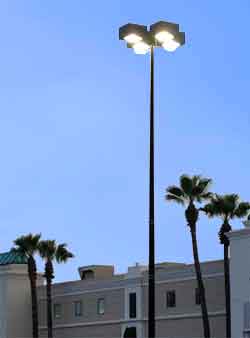 Pretty high if you want to know the truth. The quality of LED parking lot lighting has improved to the point that many parking lots can now be illuminated exclusively with LED lamps. The cost efficiency of this represents a dependable return on lighting equipment investment costs.
If LED is simply too expensive for your clients, we have many metal halide parking lot area lights that feature extended lamp life and better energy efficiency than ever before. Investing in a photometric design will also cut your equipment costs because it will show us how to light your client's site with more lumens, less wattage, and fewer actual pieces of equipment.
Do you have a case study that shows an example of how photometric design resulted in superior parking lot area lighting?
Yes.  Read our lighting case study on the fraking sand depot project in Texas. This project involved lighting both a very long, dark roadway and a depot that brought sand in on rail cars that was then stored in silos and subsequently loaded onto trucks.
LED Spot Commercial Lighting carries a wide variety of LED parking lot lighting& industrial – commercial lighting fixtures. If you can not find what you are looking for call us and we will find it for you. Our home office is located in Houston, Texas with warehouses located throughout the United States that enable us to service all 50 states including New York NY, Los Angeles CA, Miami, FL. Chicago, IL.